deepundergroundpoetry.com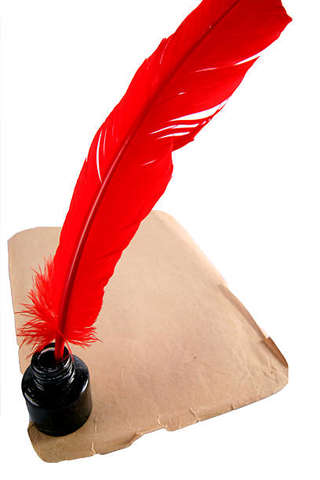 Writers bleed for the ink and scribble with bones
Faux paperback writers fall
etching under shotgun
targeted thumbs,
but lines of psychotherapy spill
dripping from my veins.

Hot sticky droplets
stain my pages
with red prescriptions as
the plasma scribbles
mark the dosage
flowing from my fingertips
into my keyboard strokes.

If heartbeats race and
pulse sparks goosebumps,
my pen etches the smiles triggered
or the teardrops and battle scars.

A pen draws the picture of me my mouth
does not speak out loud,
paper without headlines glows white,
shows no daydreams no screams
and no encyclopedia of yesterdays

edited tropes growl
vomiting emblems on people
masking writer's block and
scratching paragraphs

yellow roses and not blue violets
add perfume to ink in the links of
a sweet sugar coated alphabet.

Fountain pens spread poetry
tied to the heartstrings of the poet
and every poem that's written down
may not rhyme the lines

so do you write with a flow or is it
just all an uphill-climb?
Do not write for me
do it for you or toss pencils
in a circular file with the junk mail.
All writing remains the property of the author. Don't use it for any purpose without their permission.
likes

6

reading list entries

4
Commenting Preference:
The author is looking for friendly feedback.