deepundergroundpoetry.com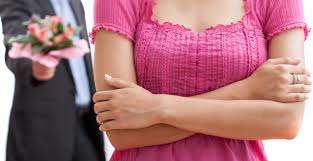 Here's some flowers
I am sorry I set the fire-
burnt the house down      
after beating you with fists      
of untruth and innuendo ( again )      
     
I am sorry ( again )      
for accusing your innocent act      
of being a derogatory intent -      
I tend to make everything about myself      
when paranoia gets the best -      
especially when you make me angry ( again ).      
     
But, here! Here are some flowers      
to make it all better ( again )!      
I offer them publicly - with an apology      
in front of everyone, all our friends      
so they can see how sincere I am -      
they will forget my pattern      
of broken peace-promises again      
( and, again ),      
deeming me the better man!      
     
I promise ( yet again )      
I will not repeat negativity      
ever ( again ) - I promise!  
I will work toward the good!
The positive! - I promise ( again ).      
Just accept these flowers      
despite the abuse you've endured      
and we can just start all over ( again )      
     
as though nothing ever happened -      
isn't that wonderful?!      
We can rebuild, together      
what I deliberately destroyed ( again )      
     
If you refuse these flowers      
this public gesture of manhood-      
then you're weak, small      
unforgiving-      
     
Because, you see      
I said I was sorry ( again )      
for additional havoc I caused      
in a moment of human weakness
I openly admitted      
because you won't forgive      
     
So this is really your fault-      
you see? you're human too,      
despite living your life positively      
and happily oblivious of me-      
     
I watch your every move      
your every word; everything      
is secretly geared toward me      
     
You think I don't know      
but I do      
and, I can guarantee      
if you don't accept these flowers      
I spent so much time picking ( again )     
especially in front of everyone. . .    
     
there will be more combustion      
when I deem another innocent action      
is covertly about ME        
because YOU won't forgive ( again )      
     
Here's some flowers      
  won't you please accept?      
I promise this time  
   it will be different. . .( again )  
     
~      
     
I spent over a decade volunteering with a battered women's shelter after a four-year abusive relationship.  Sometimes counseling involved both parties, and these fuckers would say or do anything publicly to get the upper hand.  If you are suffering abuse, do not be lulled by public professions because of peer pressure. Allow people to think what they will, to choose sides if they want - it will prune your fields of frenemies.  Those who love and care for you will stand by you because they love and care for you. Those who don't will be revealed by their choice - is this not a blessing? It's one of the highest to me.      
     
Apologies lose their meaning when the abuser says "sorry" so often, yet the abuse does not stop.  Their behaviour does not match their words. If you are experiencing any type of abuse, you always have the right to refuse an apology. You always deserve to feel safe, happy and respected in every kind of relationship. Refusing an apology does not mean you have not forgiven - because forgiveness isn't about the OTHER person, but YOURSELF.  It's letting go and moving forward without allowing an abuser rent inside your head - not allowing them to occupy one single thought.      
     
The following quote is  wonderful mantra to live by"      
     
"Emotionally intelligent people are quick to forgive, but that doesn't mean that they forget. Forgiveness requires letting go of what's happened so that you can move on. It doesn't mean you'll give a wrongdoer another chance. Successful people are unwilling to be bogged down unnecessarily by others' mistakes, so they let them go quickly and are assertive in protecting themselves from future harm."      
     
And by all means, if you are the victim of abuse, know the laws, know your emergency numbers, and reach out for help.  There are some wonderful domestic violence shelters and organizations that will help you overcome, and your future will be the better for it once you're empowered.      
     
Here's a great link: "But he gave me flowers"    
Ros Jeal describes how she is helping women stop themselves from being lured back into abusive relationships.    
     
https://www.hgi.org.uk/resources/delve-our-extensive-library/society-and-culture/%E2%80%9C-he-gave-me-flowers%E2%80%9D
 
Meaningful emotional blackmail is a very good section.
All writing remains the property of the author. Don't use it for any purpose without their permission.
likes

28

reading list entries

8
Commenting Preference:
The author encourages honest critique.