Content Warning : Do you want to continue?
This poem contains content which some readers may find disturbing.
It is unsuitable for children or anyone who is easily offended.
YES
I am over 18 years old, I have been warned and I still want to read this poem.
NO
I don't want to read this type of content, take me back to the previous page.
deepundergroundpoetry.com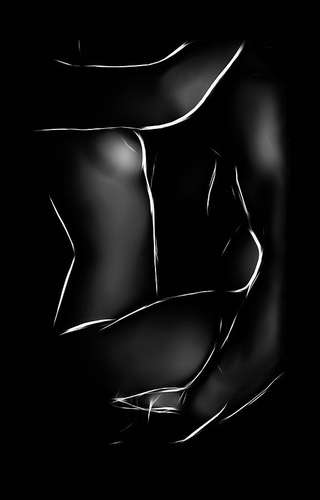 A Morning Quickie
Shh…it's just us
A man of poetic words, his gentle touch, I do trust
A morning of passion will not be denied for us, echoes of desire it's a must
I need to be fucked this morning and then tonight  
I need to feel your erection inside of me, ramming it with all your might  
Lean closer and smell your computer screen    
That's right, my sweet smelling pussy I need you to make cream  

Mixing the essence inside this exotic Queen
Your erection worshipping, sailing inside my wet stream
Loving my surrendering screams    
Dick swinging, inside kinging, asshole singing,
Crown peaking, moans of French speaking

Feel so good when your face is between my thighs
Whiskers and the hair strains, marring me, while lapping at my carnal surprise
Pussy getting excited on the verge of a thrusting uprise

The allure of my moist center core
The rapture of my body hollering more, more, and more
Swishing juices suctioning melodic sounds
Dick galloping, thrusting, pound for pound
Oh God, gushes mingling galore
Sweet pussy juices bathing the tip of his dick behind his wicked encore
Feet now hitting the carpeted floor
Turning me around, bending me over, and now on your knees to lick the back door

Penetrating deeper inside of me  
Allowing once again my pussy juices to drift free  
Your ejaculation comforting the need  
How did erotic become my Karma Sutra greed  
Follow my lead, no questions asked, and just continue to fuck me  
Revelations in the lines from my mind to the powers that be

Flip me over, wet pussy still in heat  
Clenched covers my hands come to greet
Uplifted pussy from off the bed
The essence of me greeting the tip of your head

Hosing your manhood, tap my ass with your hard meat
For a backdoor entrance clashing upon the raw greet
Covers grabbed, scrunched in such sweet searing pain
Pushing it back for daddy, as you loudly scream out my name
A tight and right screwing ride
Licking up my spine as I beg you to cum inside
Oh….baby…show me, show me you like this slipping and sliding

Amazing escaped submissive emotions
Waiting, as you strain for control, unwilling to complete me, yet aroused beyond devotion
Too clever, too naughty, my pussy gloving your dick reigning the supreme of passion
Exhaustion overtaking me in a weakening fashion
Draining, milking the wet essence of my sunken depth
Pussy squishes soaking wet
Reddish mark to my skin beast fucking I've surrendered unto as I felt
All writing remains the property of the author. Don't use it for any purpose without their permission.
likes

9

reading list entries

4
Commenting Preference:
The author is looking for friendly feedback.