Content Warning : Do you want to continue?
This poem contains content which some readers may find disturbing.
It is unsuitable for children or anyone who is easily offended.
YES
I am over 18 years old, I have been warned and I still want to read this poem.
NO
I don't want to read this type of content, take me back to the previous page.
deepundergroundpoetry.com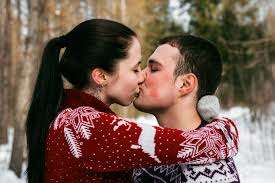 Just One Kiss
Just One Kiss



Antagonizing pleasure
Placed upon my lips,
Where dreams come true
In just one kiss!

Sharing an afternoon of ecstasy
Closing the door on reality
Not even the thickest iceberg
Could melt the lust I feel inside!

I shed my fears faster than my clothes
The anticipation begins to unfold
My heart begins to pound faster
As you come closer

Just one look from your eyes
And I become hypnotized
A river of sins, to which I concede
Just one kiss, caused the undoing of me!

Your lips gently pressed against mine
A silent submission of tongues intertwined
My mouth tenderly pressed against yours
My voice trembles as you start to explore

Electric shocks as your tongue touches mine
An erotic dance of passing time
My heart's racing as fast as yours
My body's craving for something more!

Starving and Craving
For an evening
Of erotic bliss
Where dreams come true
In Just One Kiss.


By nutbuster
All writing remains the property of the author. Don't use it for any purpose without their permission.
likes

5

reading list entries

0
Commenting Preference:
The author is looking for friendly feedback.