Content Warning : Do you want to continue?
This poem contains content which some readers may find disturbing.
It is unsuitable for children or anyone who is easily offended.
YES
I am over 18 years old, I have been warned and I still want to read this poem.
NO
I don't want to read this type of content, take me back to the previous page.
deepundergroundpoetry.com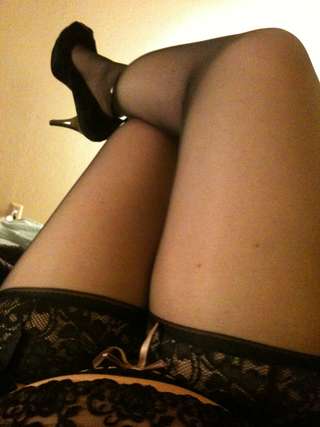 With A Firm Grip
With A Firm Grip


Sitting on the bed with a glass of champagne you turn around in your four inch heels so your back was to me and slowly you hike up your dress. As I see the beginning of your black silk stockings, suspenders and black lace panties that contour perfectly to the swell of your plump ass and wet pussy. Wrapping your long hair over a shoulder and turning your head to watch my reaction, you allow me time to enjoy the view and smile when your eyes finally made contact with mine.

Gracefully, you walk to me fall at my feet and I slowly undo the buttons on your skirt, licking and kissing my way up your neck to the back of your ear. Hesitating just at your jaw, I'd reach up to brush my mouth slowly against yours. I'd take my time to run my tongue across your shoulders and down to your hard tempting nipples. I'd try to resist the temptation to bite and nibble while I pulled open the front of your low cut dress, exposing your matching lace bra.

Laying my back, you reverse straddle on my chest so you could feel the dampness of my panties against my stomach and you shiver at the feeling of my hands pushing your dress higher, fully exposing your ass to my view. I'd rub my cheek against my zipper as you undo and removed my belt, rolling it up neatly; you pass it back to me…

I'd revel in the feel of your hard body against my pussy as I raise my hips off the bed so you can slide my trousers down. You flush and delight in watching my cock twitch and dance while you tease down the sides of my shaft, your hair brushing gently against my balls and thighs.

With a firm grip, you lift my cock to your lips and devour the full length testing my reflexes and generating the lubrication from the back of your throat needed to cover your entire length. Slowly fisting your hand down my cock swirling your tongue against the head you bring your hand back up until both your mouth and hand aligned. You repeat this for as long as I let you.

You'd groan and spank me, grabbing my hands and placing them behind my back securing them with my belt. As you feel the pull off your panties being pushed to the side and feel the tips of my fingers run through your slippery folds.

As I tease and torture you making you drip, squirm and moan down the length of my cock.

By nutbuster
All writing remains the property of the author. Don't use it for any purpose without their permission.
likes

1

reading list entries

0
Commenting Preference:
The author is looking for friendly feedback.