deepundergroundpoetry.com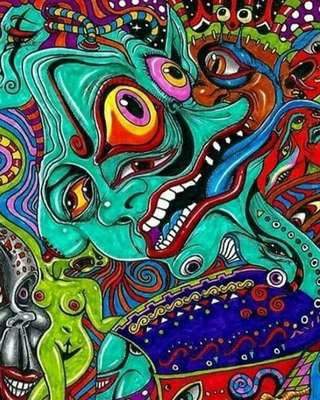 Wicked Rainbow (On Dat Shit Hard)
"The walls in my house have turned several shades of vomit green
As my girlfriend is pissing in the wash machine,
"Screaming that the toilet has come to life
She grabs a kitchen knife and charges into the bathroom to fight,

"Furniture is levitating as a blue cow is at my front door
Semen and shaved pubic hair is forming words across my floor,
"Or is it into the shape of demonic pentagrams
While a pink-polka dot cat insist it's the Son of Sam,

"Everywhere I look sinister eyes stare from the dark
As the dog food begins to howl and bark,
"A nerve-wrenching, nail-biting sound
Now it feels like the carpet is pulling me down,

"Quicksand slow and tickled until I can't take it no more
My tortured laughter is causing me to choke for sure,
"Skin feels like it's melting, but I struggle to my escape
Fingers shaped like razorblades so I begin to masturbate,

"Not caring about the stripped falling pieces of flesh
Now my girlfriend is crawling to me in a bloody mess,
"Plunger penetrated with satisfied pain in her eyes
While the blue cow is trying to convince me to turn her into French fries,

"I try my best to gain control of reality
But the Dr. Strange has the best of me,
"How long will this crazy shit last
In an incomprehensible language I begin to ask-

What is the meaning of life?
Through death I will understand,

Why am I surrounded by fire?
To put it out I'll go get the gas can,

Is this even my home?
Shit around here seems so right, but is so wrong,

Who am I talking to?
Mama is that you on the phone?

"The real charges towards me at full force
While I yell and run around like a wild horse,
"Chaos in the front-chaos in the back
I grab a baseball bat and on everything I start to attack".
All writing remains the property of the author. Don't use it for any purpose without their permission.
likes

0

reading list entries

0
Commenting Preference:
The author encourages honest critique.