Content Warning : Do you want to continue?
This poem contains content which some readers may find disturbing.
It is unsuitable for children or anyone who is easily offended.
YES
I am over 18 years old, I have been warned and I still want to read this poem.
NO
I don't want to read this type of content, take me back to the previous page.
deepundergroundpoetry.com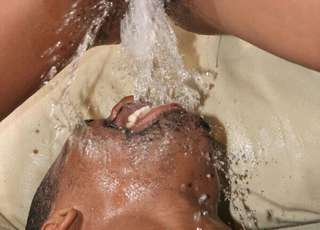 Busted Pipe
"When her liquid loves splashes my face the shit excites me
It's on that same level when I cum in her pussy,
"If I'm still hard-I tell her to climb on her joy ride
And pound my sperm deeper inside,

"She licks her juices from my face and my dripping lips
Gyrating with erotic force her sexy full hips,
"Tongues wrestle each other, while I'm palming ass cheeks
As she softly whispers 'baby you're making me weak',

"Feeling her body shake as inner pink walls clench
Followed by another intense vaginal rinse,
"Down the river ass crack to my mountainous spine
Transforming her silent scream into a straining whine,

"Then her whine, becomes slow crying
Because her true sexual emotions are exposed-there is no denying,
"Burring her face in my shoulder-arms around my neck
While her inner flood releases again-making my dick monsoon wet,

"Tears from her eyes roll down my chest
And in my bellybutton is where they find rest,
"My pubic hairs traveling the land of her Brazil
As her body shakes like she has an arctic chill,

"Teeth of sudden passion instantly bite into my flesh
Along with another feel of her waterfall wet,
"Dick throbbing hard, because her pussy is so quivering hot
In-between tears she cries 'baby I can't stop'

"Slowly she rises until her pink flower meets my tip
Then once again her pussy let it rip,
"Spraying like a water-hose all over my legs
Causing her to cuss and stumble on the bed,

"Face down, ass up as she uncontrollably weep
Time to ascend her to the level of super freak,
"Suddenly her eyes open wide and breath leaves her mouth
As I suck her pussy from behind and drain her ass out".
All writing remains the property of the author. Don't use it for any purpose without their permission.
likes

7

reading list entries

3
Commenting Preference:
The author encourages honest critique.