Content Warning : Do you want to continue?
This poem contains content which some readers may find disturbing.
It is unsuitable for children or anyone who is easily offended.
YES
I am over 18 years old, I have been warned and I still want to read this poem.
NO
I don't want to read this type of content, take me back to the previous page.
deepundergroundpoetry.com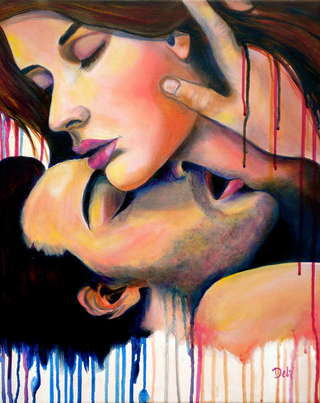 The Smell of Hot Dick.........


…...and smoldering sex

an early evening,
a most delicious meal
an inviting bed
the room illuminated
by flickering candlelight
clothing shed,
savage fucking all night.......till morning light

spent........

beneath disheveled covers
the decadence
a pungent, pherhemonic scent
an other-worldly heat emanates
from beneath the sheets
throwback memories
needing relief.....again

kiss me......deep
tongues probing the complexity
of the matter

….....the eye of the cyclops
leaks tears of affirmation
a tingle rhapsody
wanting to once again taste

…..all of her forbidden fruit

trickling down
between her legs
I ain't too proud to beg, no

looking deep into those
dreaming eyes,
fingertips raking against
my nipples, my chest
my hands exploring the insides
of her cocoa-creamy thighs

beguine again..........the dance to spread wide

the savage scent of a night well spent
the desire to stoke another rising fire
ahhhh, breakfast in bed
stroking the urgency
the rise and fall
of my mushroom head

her sheepish smile as she licks her lips
re-ignition, the embers smolder
the sable smoke of a distant fire......the waxing rose candle drips

…....lusting the delicious scent,
hot dick
All writing remains the property of the author. Don't use it for any purpose without their permission.
likes

3

reading list entries

1

Commenting Preference:
The author encourages honest critique.