deepundergroundpoetry.com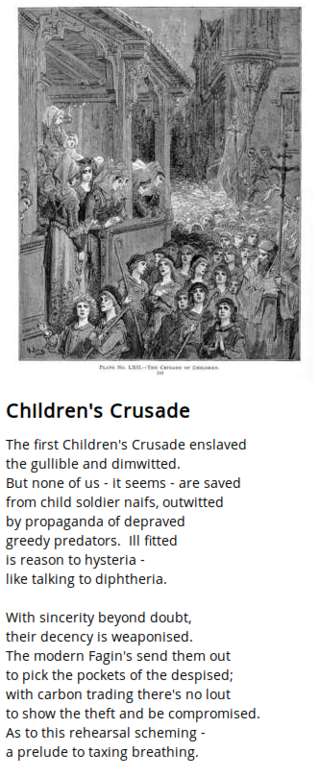 Children's Crusade
The first Children's Crusade enslaved
the gullible and dimwitted.
But none of us - it seems - are saved  
from child soldier naifs, outwitted  
by propaganda of depraved  
greedy predators.  Ill fitted  
is reason to hysteria -  
like talking to diphtheria.  
  
With sincerity beyond doubt,  
their decency is weaponised.  
The modern Fagins send them out  
to pick the pockets of the despised;  
with carbon trading there's no lout  
to show the theft and be compromised.  
As to this rehearsal scheming -  
a prelude to taxing breathing.
All writing remains the property of the author. Don't use it for any purpose without their permission.
likes

2

reading list entries

0
Commenting Preference:
The author encourages honest critique.