Content Warning : Do you want to continue?
This poem contains content which some readers may find disturbing.
It is unsuitable for children or anyone who is easily offended.
YES
I am over 18 years old, I have been warned and I still want to read this poem.
NO
I don't want to read this type of content, take me back to the previous page.
deepundergroundpoetry.com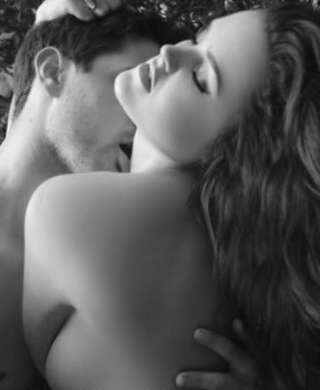 The Tunnel
Warning : It's Erotic. Even hyper Erotic.

   "Uhmm"

    Her tongue clicked as his lips ventured into her consciousness, dancing over her lips rhythmically, skillfully, fiddling with the urge flowing in a surgical torrent through her vein. He fought his tongue free, looked into her eyes, discovered they were closed: lost in the morass of emotions.

   He resumed the survey, now, more delicately, tormenting her from the inside, making her, marring her, starving her, urging her to want more, demand for more which he offered generously.

    Her hands moved now to rest on his shoulder, holding his neck with both hands as he pulled her close, lifted her up, scooping her between his knees as he stables himself, with tongue fighting for pleasure, pulling the jive and ding-dong activated in her mental horizon.

     With her locked to his body, he moved, fighting and finding his way to the bed. He felt the soft foam of the bed, in contrast to his erection, harder than the rock, as it rocked her vagina, tormenting it as they spit out juice in appreciation of the torment.

    Now, he placed her on the bed, for the second time, withdrew his lips, which she pulled back for a repay. He responded again, now, more intimately, making her moan under the confetti of breath. Her breath ceased, as he grasped the right boob, squeezing it as instructed by the urge in which he was bonded. She threw away her face this time and he embarked on his  affianced mission.

      He trailed his tongue through her cheek and cupped her right ear with his mouth, clicking as he hummed love into the drum. He then traced his tongue further as one of his hands switched its duty, leaving the cushion for her abdomen, working its way down to the lower region, as the hand plies under her wet panties. The fingers danced over the bridge, the two curvy parts wet with juice. Tormenting as well as starving her, wanting her to ask for more. He withdrew his hand.

       "Oh no... Please... Inside"
   
      Snipping the words was not a task for her. She wanted it, she had always. She loved taking pleasure in the sweet pain.

       At that, the innocent hand that was  tracing the curves of the vagina fought two fingers into the hole as she cried, the second hand firmly on the boobs, squeezing and pressing lust of them, changing from one to the other to steer clear of the plight of jealousy between the twin.

       "Stop... Oh... Stop "

       That was a lie. She wanted it. She knew. Even more tormenting than that.

      "Do you really mean it"

      The cruel smile stole accrosed his lips as the went out and in again in a ferocious velocity.

      "No... No... Just stop tormenting... In... In... Please"

      Her breath. Breaking. He understood the "in". He should have made her feel him inside but he wanted to be sure if she truly wanted him. Yes, she really did. And always will. So, it's time to finish what has been started.

      "Okay"
  
       As if possessed, he pierced the fingers again into the vagina, removed them, removed the T-shirt he was having on, unstrapped his belt, pulled his underwear greased with his juice lower to set free the clamoring erection. He then pulled her pants too, soaked in the grease of lustful love, lowered it a bit as he drove his erection into the vagina, driving her in and out as his hands kept squeezing the innocent boobs.

      Eight hours later, he was still driving her. He continued driving till she changed her address to heaven.
       19:07:03:16:45

     
All writing remains the property of the author. Don't use it for any purpose without their permission.
likes

2

reading list entries

1
Commenting Preference:
The author encourages honest critique.