Content Warning : Do you want to continue?
This poem contains content which some readers may find disturbing.
It is unsuitable for children or anyone who is easily offended.
YES
I am over 18 years old, I have been warned and I still want to read this poem.
NO
I don't want to read this type of content, take me back to the previous page.
deepundergroundpoetry.com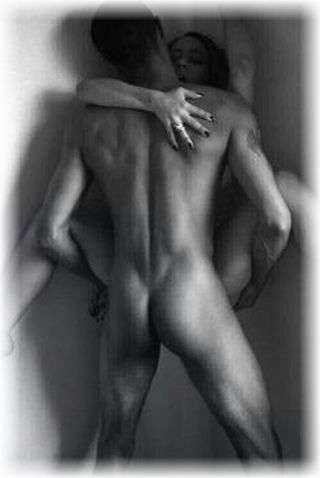 a Machiavellian Lust Oddity.....


My mind ponders.....
 
"…..spare not the rod
and spoil the man"
she grasp the thick, black serpent
inside the palms of her
lithe yet strong hands
 
pulling
 
and stroking the shaft,
steady and hard
Le Grand Moïse, a slave to the rhythm
has not a guard
"left" to resist the maddening disdain
truly therein finds joy through
the pain.....his passionate release
is clear
 
his warm liberation stands witness
all over
your
fingertips.....
 
Beautiful Queen, lend me your ear
 
as does your most intimate kiss
still linger near,
to tantalize his threshold
to pure adulterated bliss
there between
the haunches of the handsome beast
 
her hands grope and knead  
his arse
he trembles in lament
until his cock  
is hard as stone
rising towards the heavens
as a grand monument
 
erected for his Nubian queen
 
drawn and shackled
upon the throne of grace
breve stacatto
her ass bears witness to his
chiseled stare
 
skillfully tonguing
the bitterness of her lust
drops of Jupiter
stirred in
Venus' tepid waters  
splashed against his face
 
as he mounts her
 
each torrid thrust
opens a portal
into the deep pleasures
of her raging seas,
 
frothy waters
churning against the
rocky, jagged edges of
his carnal retribution,

the quaking of her legs
the quivering of
her profoundly, feminine flesh
 
"le petit mort".....their immortal souls
embrace the  "x-stasy"  
of the "little death"........
 
".....Every move you make, every breath you take"
 
I am left to ponder
the breaking down of your
"strong hold"
 
"Oh, how I want to simply "take you.....by force"
All writing remains the property of the author. Don't use it for any purpose without their permission.
likes

3

reading list entries

1
Commenting Preference:
The author encourages honest critique.