Content Warning : Do you want to continue?
This poem contains content which some readers may find disturbing.
It is unsuitable for children or anyone who is easily offended.
YES
I am over 18 years old, I have been warned and I still want to read this poem.
NO
I don't want to read this type of content, take me back to the previous page.
deepundergroundpoetry.com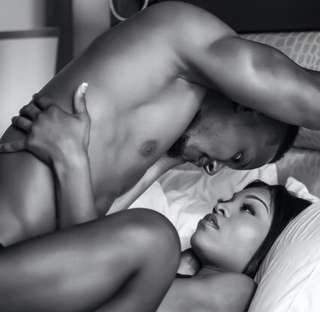 From Earth 2 Taured (Before I Fall.....)


"this unrelenting, unconfined, uncontrollable beast that won't let us rest until we feast; feast upon the insatiable appetite that has been awakened.  
 
Something has happened ........"
 
........as I unboard, a 2 a.m. flight
Taured to Chicago we've been running all night
such a strange deja vu,  
my eyes catch a passing glimpse of u
 
bright brown eyes glisten,  
pretty white smile elicits
stolen kisses from a
beautiful woman that I don't even know
but I can't let go.....
 
....you look so familiar to me
 
it's if we are from parallel worlds
inner thoughts keep tossin' and turnin'
my mind tiffany twisted up  
in the delicious manifestations
of this beautiful woman girl
 
the feeling of
distant, ancient memories....
 
...the shape of your mouth
hearing you speak
images of you and I  
naked in the darkness
neither of us can get no sleep
lust holds a mystery in between the sheets.....
 
and your body's calling me.......
 
"There is none likened unto you. My lost lover, I am missing you
from the crown of your beautiful bald head to the tip of your toe.
 
..... remembering how your strong tongue traced the flowing curves of my body, sending chills down my spine.   You are so very careful not to miss these tender, large sensitive nipples; ever so careful to give each full attention-time after time"
 
whispering "baby, you are my best ... there is none likened unto you."
 
.......and just like jasmine blowing in a summer breeze'
your scent takes me to a place so surreal
that I have to close my eyes
settling back into adjoining chairs
the allure of my errant hand gently brushing against
your thighs
 
"oh that momentary lapse of consciousness, a vignette flooded with sensual images
of you......
 
the rush of my warm release running down my fingertips, wet dreams and melodies
 
I wanna' be your man, yes I do baby
 
my hands wrapped firmly all around your waist
pulling you tightly against my body  
as I'm pushing deep inside,  
wings spread wide
standing up in it
feeling like an eagle; wanting to fly
you....biting down upon your lip
the look of our lust  etched upon the flesh  
of your lovely face........
 
..........legs draped, bodies tangled    
bed covers strewn about,      
twisted and mangled    
    
....as we lay, mmm let me touch "it" my sweet butterfly"
 
an awakening,  
to your eyes staring deep into mine,
cries the restless feline, having some strange design-
her gentle hand resting upon my thigh
 
....hard and throbbing , you're making me so damned high
 
her fingers plunder my zipper
she opens my fly and whispers
"it's time for you and I to 'cum' clean"
crossing and uncrossing her ample thighs
the sensual scent of a woman's arousal
the two of us stirred by this strange heat,
bodies tingling.......  
 
"thou art Taured, my satyr, my distant king........."
 
 
(more to cum)          
 
 
 
All writing remains the property of the author. Don't use it for any purpose without their permission.
likes

2

reading list entries

1

Commenting Preference:
The author encourages honest critique.