deepundergroundpoetry.com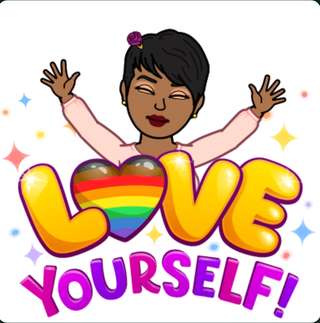 Beautifully Me- Short memoir
Is it the pudge that overtakes her stomach that forms into her love handles.
Is it the rolls that flow ever so loosely down her back like its a case of unclimbed stairs.  
Or is it her stretch marks known proudly as tiger stripes that symbolizes the beautiful imperfections us woman wear effervescently.    
Her stretch marks who can also serve as our battle scars from the ever changing cycles our body faces daily.    
Is it her brown skin that is slighly overtaken by eczema that strengths her will to hide its hideous rash marks through long clothes.    
Eczema that makes her feel envious of the many people whose skins exudes clear radiance and lack of dryness.    
The irritation of her skin itching so bad that she would scratch until it bleeds.    
Or maybe it's her full breasts that are natural that sag into a shape of a teardrop.    
Yes her saggy breasts that aren't molded like the too perky, yet unrealistic ones built by plastic surgeons through implants.    
Is it her teeth that are slightly crooked at the bottom with a side gap to accessorize it.    
Is it her thunder thighs that clap and shakes as she struts with insecurity of being fat shamed to smithereens.    
Or her butt that is a little plumped, but not placed as a bubble butt fantasy for men to jerk off too and dream of getting first dibs at fucking on.    
    
The girl I describe is above with the many cons about her body is me.    
I am that girl who grew up being called fat on  countless occasions and not being looked at as attractive enough by boys.    
The girl who sometimes would eat excessively just to feel full inside and cure some deep rooted depresssion within my life.    
Often hearing rumors about myself that are not even true but oddly enough people never rehashed them in my face.    
Someone who is trying to keep her sanity in tact and not lose not even a single ounce of it.    
The girl who would often compare pictures of other girls to myself and wish I could be even nearly as perfect as them.    
A girl who wished that she was born as somebody else and live the life she thought God should have gave her in the first place.    
Dirty thoughts of fantasies of a man's mouth cupping his lips to sip off my utters as his purified milk and smothering his soft face deeply into.    
Him treating my body as a sacred playground that is like a whimsical wonderland with endless, unforbidden pleasures with some places off limits.    
Simply a girl who lusted to be in love and letting the thoughts of it pain on her mind to the point of sleepless nights.    
   
But as I got older I realize that there is someone for everybody and I just got to be patient for my somebody.    
Also that I am proud to be classified as a BBW honorably mentioned as a big beautiful woman.    
I have emerged from a once shy timid Bambi into a blossoming gazelle ready to take on the wonders of this world.    
I learned that I can't dictate how God should create my life, but instead live it to the best of my abilities with the tools he has supplied me with.  
Most importantly honing my ability to gain self love for myself and become beautifully me.
All writing remains the property of the author. Don't use it for any purpose without their permission.
likes

6

reading list entries

0
Commenting Preference:
The author encourages honest critique.