Content Warning : Do you want to continue?
This poem contains content which some readers may find disturbing.
It is unsuitable for children or anyone who is easily offended.
YES
I am over 18 years old, I have been warned and I still want to read this poem.
NO
I don't want to read this type of content, take me back to the previous page.
deepundergroundpoetry.com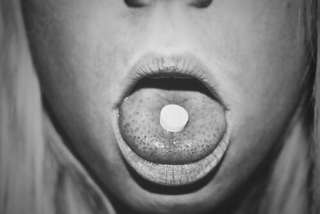 Take Me Like A Pill
Let me be your Xanax
Just let me leave you chill
Throw me back, then just relax
Baby, take me like a pill

Let me be your ecstasy
All your inhibitions will drop
Crush me up and mix me in
And then pour me on the rocks

Take me like a vitamin
So you can taste me everyday
I promise Iíll be good to you
Oh, in every single way

Throw me back like adderall
Let me take you on a thrill
You crave my high, donít deny
So just take me like a pill

Put me in your mouth
So I can melt under your tongue
If you think you can handle it
Iíll make you come undone

Let me be your Lortab
I can chase away your pain
Light you up or fuck you up
Very little will remain

Though I feel I must disclose
That addiction is very real
You wonít hear me complaining
So baby, take me like a pill
All writing remains the property of the author. Don't use it for any purpose without their permission.
likes

15

reading list entries

7
Commenting Preference:
The author is looking for friendly feedback.