Content Warning : Do you want to continue?
This poem contains content which some readers may find disturbing.
It is unsuitable for children or anyone who is easily offended.
YES
I am over 18 years old, I have been warned and I still want to read this poem.
NO
I don't want to read this type of content, take me back to the previous page.
deepundergroundpoetry.com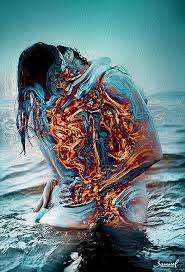 innocence

sodden misery bled seminal fluid
an open wound penetrated by you  
god over my heart how I ache  
until you came into my hidden places--
   
the touch and feel of you...your smell
and when you kiss me  
I die a thousand deaths on your alter of sin  
   
passion beyond the depth of thought
you are the pneuma I'm unable to fathom  
how you enter my sanctuary and undress my soul  
strip it bear until there is nowhere left to hide  
   
the tiny bits of my bone and flesh who wish to remain secret  
uncovered one by one...they were made for you  
handcrafted by the gods themselves for your hands  
   
you come gently in and know me  
in the way, only a man and a woman can  
you come into me and I am whole  
   
tenderly you caress my soul  
I see my reflection in your eyes and I am beautiful  
so delicate a creature I shimmer  
   
you have reverence here this place is sacred  
laying your gifts on the alter...you say prayers to my sin  
the darkness knows you    
it hovers over my eternal pools... smoke  
your prayers send it to the heavens  
   
my spirit renewed by your touch  
then and only then do you release your passion  
deep within my innocence  
   
my inner goddess has been waiting for you for eons  
deity over the hidden realms with stars in your eyes  
I'm finally home...my God...in your arms  
   
 
All writing remains the property of the author. Don't use it for any purpose without their permission.
likes

13

reading list entries

6
Commenting Preference:
The author encourages honest critique.