deepundergroundpoetry.com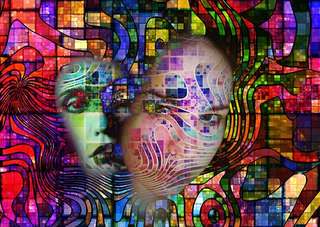 hallucinogenuis~with the talented Gothicsurrealism


  -Enter crimsin-

My voices say don't talk to you
because you illuminate the darkness in which they reside.
They moan despair in your light,
bloodletter you've seen heaven,
you're forever altered in this realm.

S-c-h-i-z-o-p-h-e-n-i-c genius!
Hopscotching delusions,
the pen your weapon in defeating demons,
capturing them on the page in black and white.
The lines on the paper their prison cell,
jangling their cup across the bars,
doesn't rattle us and if it does...we pen it

-Enter gothicsurrealism-

My voices say, "let her in,
till the lilac heat of her breath is on your face.
Let her illumine your gray ways,"
they breathe in exhilaration.
"Let her piece your mosaic together,
once again making you whole!"

Naturally h-a-l-l-u-c-i-n-o-g-e-n-i-c.  
My voices moan in ecstasy in your presence.
Closed windows keep the warmth within,
but I'll open it wide for you.
The hand that hovers the page now flush,
the pen that dances streams thawed ink.

-Continues crimsin-  

I embrace you utterly kin of ink, and blood
flowing with the need for release.
Uniting under this sacred art form,
skillfully we slay the darkness,
burning the night and awakening the dawn with us.

Come with me. We shall shake foundations!
P-o-e-t-r-y our armor
to shield us from the madness.
Within its protection,
we can defeat the white noise
and quiet the internal voices!

Brother of mine,
inside your kaleidoscope visions,
my soul is renewed!
I now have hope for the future.  

-Continues gothicsurrealism-

Sister of mine,
comrade of poetic song,
you're so finely tuned!

-Continues Crimsin

harmonizing our dread,
keeps us in check,
on point with this s-c-h-i-z-o talk
we stand.

our delusions restrained,
and locked on the page,
we walk on into the light,
ah freedom!





All writing remains the property of the author. Don't use it for any purpose without their permission.
likes

9

reading list entries

2
Commenting Preference:
The author encourages honest critique.