Content Warning : Do you want to continue?
This poem contains content which some readers may find disturbing.
It is unsuitable for children or anyone who is easily offended.
YES
I am over 18 years old, I have been warned and I still want to read this poem.
NO
I don't want to read this type of content, take me back to the previous page.
deepundergroundpoetry.com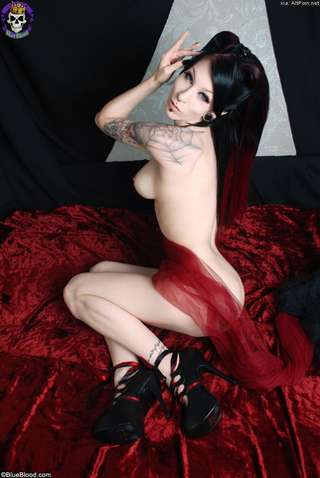 Lucy's lips

I'm not for some...not for most
pure unadulterated white lightning
sexy sin you'll burn with the want of me upon entry
the need to fill me deep...touch me where I Iove

fathomless eyes will draw you in you'll forget your name
but don't fall for my glamor
I'm a seductress...a soul taker

gutter talk gets me off...talk to me dirty
spewing all your rage out on me
I'll go down on you sip, swirl tasting the divinity of your fuckery
you're beautiful to me when you're at your cruelest

manhandle my vulnerabilities
down on my knees, I'll pleasure you
beat me...masochistic I enjoy a good spanking

withhold from me don't give into my magic
I've broken weaker men
pound home your Dominance deep inside
cock to cunt...show me who's boss

urgent midnight screwings appease my demons
so leave me wanting more
pink lips parted salivating after your sinister fucking

starved for your approval
my pussy pulsates an s.o.s to your shaft
and begs for release

your mistress of want and desire come true
but don't dare succumb to my charms
if you do...god help you


All writing remains the property of the author. Don't use it for any purpose without their permission.
likes

15

reading list entries

1

Commenting Preference:
The author encourages honest critique.