deepundergroundpoetry.com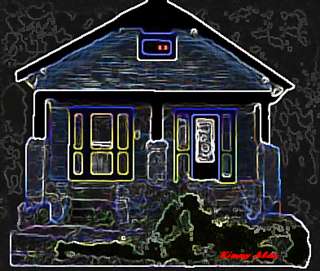 A House of Black & Blue
On every block
In every town
Is one house known
For being black & blue
Itís a haunted home

Where many a night
A drunken monster
Bellows in rage
Fueled by liquor
Heís the Devil uncaged

A box of screams
A dwelling of pain
A hut of wailing
Muffled thuds
Little ones crying

In the morning
The children emerge
They look so scared
With shell shocked eyes
They speak no words

Sometimes a woman
From inside that place
Timid she quietly leaves
With scarf covered head
And sunglass covered face

She leaves quickly
Silently like a ghost
Walking to the store
Returning with groceries
She shuts the door

What sort of monster haunts
The house of black & blue?
That reigns terror upon a family
With horrors unviewed
Is there nothing you can do?

The monsters children fear most are real. They donít hide under their beds, but can be found sleeping next to mommy instead.
All writing remains the property of the author. Don't use it for any purpose without their permission.
likes

11

reading list entries

2
Commenting Preference:
The author is looking for friendly feedback.