deepundergroundpoetry.com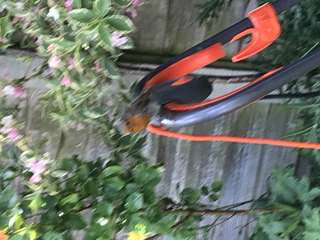 A feathered visitor
The grass had been cut,
the daisies had their heads lopped off
but were not defeated
and would be back in time,
The bold breeze had died down
giving way to warm sunshine
a truly pleasant Summers day,
While I went about rolling up the lawnmower's cable
a Robin Redbreast flitted by to land on the newly cut lawn
all was still and peaceful
only the soft murmurings of life in the background;
I looked at the robin
and felt nothing
except than the simple serenity of a job well done
and the slightly buoyed up mood
of happiness in a lull,
I watched the robin
and it hopped around
to sometimes watch me with a side on glance,
there was no whisper in trees
speaking in tongues with the winds of fate
no sudden epiphany
or half-heard, half-felt herald to an apocalypse and change;
just me wrapping up an orange cable
and an inquisitive robin
that would flit from on the grass
to perch on the conservatory's gutter:
a bird and a monkey
both aware of each other
but more than happy for the other to carry on their business
nothing said other than an utterance of
"Can I help you?"
with earphones in possibly the Robin did not hear me
regardless it not heed me or prompt further conversation,
so I finished my task
putting the lawnmower back in the shed
last I saw the Robin it was hidden in the leaves of the apple tree;
We parted without a goodbye or glance back
onwards to our merry way
with no thought of meeting another day.
Perhaps it meant something,
or perhaps it was little more
than an oasis of peace
a meeting of man and nature
amongst the modern world.
All writing remains the property of the author. Don't use it for any purpose without their permission.
likes

9

reading list entries

1
Commenting Preference:
The author encourages honest critique.