Content Warning : Do you want to continue?
This poem contains content which some readers may find disturbing.
It is unsuitable for children or anyone who is easily offended.
YES
I am over 18 years old, I have been warned and I still want to read this poem.
NO
I don't want to read this type of content, take me back to the previous page.
deepundergroundpoetry.com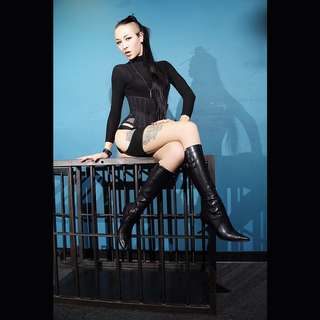 love and all that good shit
Anna
 I really wish  
you would tell me off
 
I'm here whining  
    and my demons  
are telling me to shut the fuck up
 
                  then you enter  
and I can hear you in my head
      thinking get it together bitch
 and whoa, Crims what happened to you?
 
this is weak tea you wanked in
                  .toughen the hell up
 
                 so I knock back my feelings whiskey neat
                              no tears
                                       if things are on the rocks fuck it...I put them  
                                                                                                                   there
 
see I'm just full of these emotional fuck faces  
                                  they got me all like tongue tied
every time I go to say something  
                    one of these bastards pop out
 
                               all these illegitimate  feelings running around
because I sure ain't going to claim them
                        no, what feelings?  I don't have any...you know what I mean?
 
                       those kind of nasty little bastards
 
yeah you understand  
                            but you'd have to kill me  
 
                                                if you admitted you did
 
                        happy to see you tonight
 
and all that good shit
 
 
 
 
All writing remains the property of the author. Don't use it for any purpose without their permission.
likes

8

reading list entries

1
Commenting Preference:
The author encourages honest critique.