Content Warning : Do you want to continue?
This poem contains content which some readers may find disturbing.
It is unsuitable for children or anyone who is easily offended.
YES
I am over 18 years old, I have been warned and I still want to read this poem.
NO
I don't want to read this type of content, take me back to the previous page.
deepundergroundpoetry.com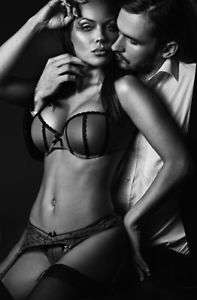 Taming your skin
Fingers caressing
silk smooth skin,
wandering freely,
exploring every fold
of petal flesh.

With eyes closed,
imagining your curves,
breathing in deeply
you voluptuous scent.

Your here, still,
wondering what
happens next.

I map in mind
your every line;
your face, your lips,
the way your back arcs
when I blow on your neck.

The shades of your eyes,
the way your chest goes
up and down, as your breath
accelerates when my fingers
air write on the different shades
of your aureolas, as I take
your vision in.

The goose bumps
when I lick between
your shoulders,
slowly going down
the small of your back.
You are delicious,
even more so as I edge
towards your inner thighs;
your hidden treasure,
I crave so much.

Let me in
your sancta sanctorum;
the promised land
of milk and honey.
Let me feed my hunger,
sweetly sipping
your nectar.

It's not a sin
taming your skin.
It's a sin
to leave such fruit
unpicked whilst,
like an ungrateful
starved guest
before a banquet,
rather than thank
the host for the treat,
he leaves the plate
untouched.

I, my sweet,
am not a fool;
I always come back
for seconds;
your flesh my feed,
your body, my shrine;
I, the high priest
before the altar,
my nume.
All writing remains the property of the author. Don't use it for any purpose without their permission.
likes

9

reading list entries

3
Commenting Preference:
The author encourages honest critique.