Content Warning : Do you want to continue?
This poem contains content which some readers may find disturbing.
It is unsuitable for children or anyone who is easily offended.
YES
I am over 18 years old, I have been warned and I still want to read this poem.
NO
I don't want to read this type of content, take me back to the previous page.
deepundergroundpoetry.com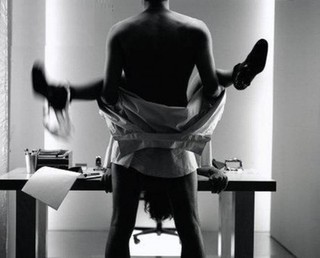 Sex, Porn, Lust ..................(and other Myths and Lies)
(Author's Note.......this was the result of a rousing conversation I had with a friend today)


Feelings. Raw sexuality
Erotica,
Pornography
Wantonness, Unbridled Lust.....

….....so much less
the shape, roundness and thickness of her ass
Or the the size of his dick
The way his full balls hang down
or those juicy , pussy lips

It's the "feeling"............ yes, those inner sensations.
What it looks like to the minds eye
It evokes that deep, nether-worldly tingle
Causing the heart to beat heavily and heat to rise from between
full, voluptuous thighs.

Vivid, visual cues become the fuel
that stokes the fires
causes an eminent burn, a yearning
an overwhelming desire to just.........

…..do the damn thing!  

Stop, look, listen.........and you'll see.

The rippling of her abdominal muscles
flexing and releasing
Synapses firing.......body needing pleasing
Mmmmmm................you know what that feels like
and that brings out the voyeur in you
You stare, eyes wide shut and feel the need too..................

Maybe it's the way the fluids begin to ooze
His mushroom-shaped head expanding........the purity of his clear, copious juice
beginning to stream from his strained opening
Those thick veins appearing
his shaft hard and thick...............
…........and his balls draw in closer
his cock begins to throb
You remember that feeling inside you
the way your hands massaged that slippery wet knob

Is that what you see?  Is it less than you hear?
Those torrid, hot body movements.  Is it starting to become crystal clear?

Her nipples are hard and pointed
he sucks them between his lips
pinching them between his fingers
her chest rises and dips


The lens zooms in to capture
her creamy white juices-how they flow
That sweet sticky thing, her moist lips
the rhythmic contraction of her vagina
…..and that bit of "taint meat" just below.

And her back door is opening and closing
Her body, wet and flushed
We watch in amazement......
Caught up in our own heat; consumed by our own lust.

We "feel" the passion, a fire rages deep within
Engulfed by that nervous anticipation
The will to commit our own delicious sin

Not so much what we see............
but ohhhhhh what we feel
the conversion of the visual
to sensations that seem; that "feel" so damned unreal..........

.........but yet so damned divine

The allure of the erotic,
the hedonistic rush
For which the eye can see
it simply becomes...........
us
All writing remains the property of the author. Don't use it for any purpose without their permission.
likes

9

reading list entries

1
Commenting Preference:
The author encourages honest critique.