deepundergroundpoetry.com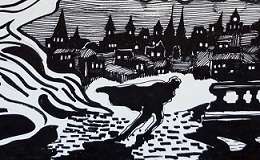 Forbidden
Watching as his night descends
On the walls a shadow play
But the joker shuffles out the door
Unconcerned with scant defense

He speaks in a jaundiced tongue
Wandering the vacant streets
The rooftops twisted overhead
Their tips piercing his clouded sky

He looks backward to his deaths
Oblivion perhaps the best
Yet harpies circle overhead
Their presence, now, forbidding rest.
All writing remains the property of the author. Don't use it for any purpose without their permission.
likes

7

reading list entries

3
Commenting Preference:
The author encourages honest critique.