Content Warning : Do you want to continue?
This poem contains content which some readers may find disturbing.
It is unsuitable for children or anyone who is easily offended.
YES
I am over 18 years old, I have been warned and I still want to read this poem.
NO
I don't want to read this type of content, take me back to the previous page.
deepundergroundpoetry.com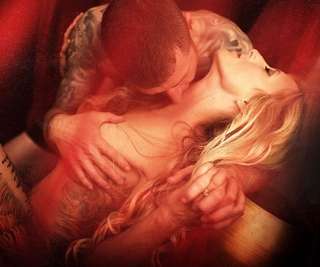 Fucking Satan
release the beast from his shackles, darling
for he shall ravish your body and soul
make your pussy wet with Hades dick
squish-squish   
goosebumps, your body goes numb
tingle toes, they curl from a devil's kiss 

let's claw open your skin while blood drips 
I'll drink upon wounded flesh like a leach 
unleashing inner demons hidden away 
slap, hit, and choke till they come out to play 
let's please each other straight to hell
be my fucking whore 

throw away that bullshit innocents
come take a ride on a monster's cock     
filling that nasty cunt full of my creamy jizz
no holds barred
blindfolding eyes, tying you up with rope 
making sure there is absolutely no struggle
right before I tear open your cheerio
go ahead 
blame me, hate me, for your rape fantasy
I know you will 

cum drips out, and down your leg
eyes crying mascara tears as I laugh 
I take my hand and slap your ass red, no remorse
ordering you onto your knees
open up those lips as I stream down your throat 
you drink it all down like a good obedient

most would run away from a freak like me 
but you instead fuck me like a god 
for that I love you, I hate you
but mostly I want to destroy you     
feeding my hungry erection with your cuteness 
I know how to give that ecstasy you crave 
so beg your almighty for his devil's seed
my living disaster     
you are as perfect as perfect can be, to me
All writing remains the property of the author. Don't use it for any purpose without their permission.
likes

8

reading list entries

2
Commenting Preference:
The author is looking for friendly feedback.