Content Warning : Do you want to continue?
This poem contains content which some readers may find disturbing.
It is unsuitable for children or anyone who is easily offended.
YES
I am over 18 years old, I have been warned and I still want to read this poem.
NO
I don't want to read this type of content, take me back to the previous page.
deepundergroundpoetry.com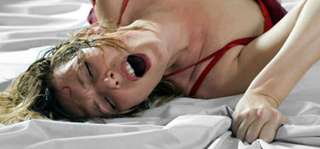 Second Time
"I got my hand coal mine deep under her dress
Finger banging like a motherfucka making that pussy wet,
"She's looking me in the eyes while getting an erotic rush
Talking silently that she's ready to fuck,

"Reaching, she's trying to take off her panties
I stop her and tell her to focus on me,
"Call this a moment of control
As I put in foreplay work on her pussy hole,

"This ain't her first time
But I'm gonna be the second one to get this behind,
"It seems that first motherfucka didn't know what to do
But I'm gonna show her what a pussy really can do,

"Turning her on her stomach-ass up
I start sucking her pussy like a slow lunch,
"Causing her soaked thighs to open wide
Pull her panties to the side-now tongue inside,

"She moan 'baby what the fuck'
Oooooo!! You doing too much',
"From the story she told her first ain't never did this
All he did was suck a titty and push in dick,

"She realize I'm gonna give it to her right
Because I'm gonna snatch her sexual soul all night,
"After twenty minutes and her fourth orgasm
Her lips is creamy dripping as I start pushing hard dick between em',

"Now in the pillow her sexy voice begin to whine
Inner walls clinching as I start to slow grind,
"Pushing in deeper as I'm grabbing her by the waist
Her hand instantly appear on my stomach as she moans wait,

"Is it too much baby? She silently nods yes
I ease up and let her catch her breath,
"After a pussy adjustment we fuck off and on for the next ten hours
Blowing her mind when the last hour was in the shower".
All writing remains the property of the author. Don't use it for any purpose without their permission.
likes

3

reading list entries

1
Commenting Preference:
The author encourages honest critique.