deepundergroundpoetry.com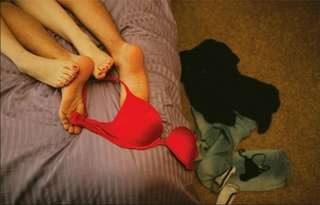 Cliterati
I feel 'romantic'
on the telephone
missing you sweet guy
wishing I was back home
but I gotta have someone
to help me get by
curvaceous Charlotte
catches my eye
she's sizzling hot
I have to confess
take her to my room
she's willing to impress
love her scented soft skin
teasing kisses … melting ...
unzip her minidress
lingerie lost … on fire ...
she caresses my breasts
I drink her beauty in
as she places her lips
on my lips ... fingers within
feeling me blossom
as I rock to my rhythm
..... hips gyrating
tasting my nectar
as tongue tip
touches hood
massaging my clit
as only you should
feeling naughty as sin
but knowing you'll forget
yet another indiscretion
thinking of you now
increases the sensations
visions of you … and how
I need you my lover
right now, right here in bed
ohhh but I'm loving this
girl who's here instead
creating lazy circles
these switching swirls
feels sexy, divine
sweet loving girl
I need your lust
woman of mine
strap it on tight
let me feel you
drive deep and thrust ...
… darling I'm sorry
but this feels sublime
I'm home tomorrow
will need your love
so please make time.

All writing remains the property of the author. Don't use it for any purpose without their permission.
likes

3

reading list entries

0
Commenting Preference:
The author is looking for friendly feedback.