Content Warning : Do you want to continue?
This poem contains content which some readers may find disturbing.
It is unsuitable for children or anyone who is easily offended.
YES
I am over 18 years old, I have been warned and I still want to read this poem.
NO
I don't want to read this type of content, take me back to the previous page.
deepundergroundpoetry.com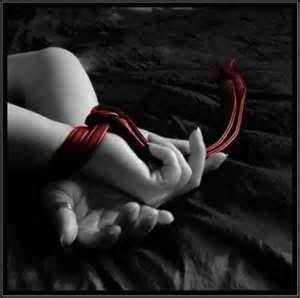 Arms Above
Lips to wrist
scaling the ladder
of bare arm
in soft skims
before descending
and rising both
into a knot
above head

Shifting to cheek
an unfamiliar fragrance
exciting senses
in faint tones
to draw attention
to exposed neckline

The hospitable hostage
releasing low sighs
to signal an advance
for mouth to follow

At the back
the sound of the zipper
pulling the dress
from the top down
to rest under breasts
calling for recognition
delicate swabs from tongue
delivering equal scrutiny
to both provoked nipples

Inside the stretch
of flesh-colored nylons
the edge of hand
finding the heat
and gliding against it
watching mouth
slowly open
before placing yours
upon it

The intensity of the feast
the primal abandon
of unrestrained kisses
fingers enter
and thumb baits
the trigger
in swift,
careful motion

She wants to touch
but bound at this mercy
and capable handling
the frequency of nerves
overtake such thoughts
and the only recourse
is to cum hard.


All writing remains the property of the author. Don't use it for any purpose without their permission.
likes

4

reading list entries

1
Commenting Preference:
The author is looking for friendly feedback.