deepundergroundpoetry.com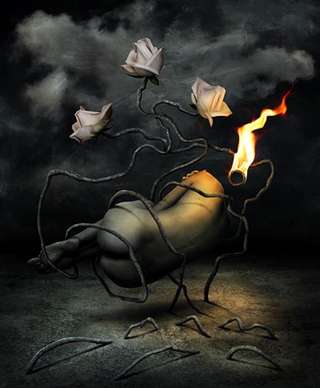 a soul's ache

the stardust in my eyes
twinkles then fades
it hurts to be this human
with real feelings...never to materialize

I will die in your arms
but never in your embrace
you will never hold my flesh
though you hold my soul

tender one...where are my tears?

sigh, you hold them in a vial
around your neck...
a keepsake of what you mean to me

you captured my essence
then left me alone in my want
never mine...I wonder why I still cry

my heart is haunted...
with a passion so great
it breaks deep within

I never saw you coming
when I did it was too late
you left an indelible mark...

eternally now...my voice echoes-
inside my soul's chambers
calling you to my bed...

a place is reserved for you-
deep inside me
a place just for lovers...

now I sit at my hall's table...alone
eating a feast full of lust
masturbating my desires

to the loneliness of one...





All writing remains the property of the author. Don't use it for any purpose without their permission.
likes

10

reading list entries

3
Commenting Preference:
The author encourages honest critique.