deepundergroundpoetry.com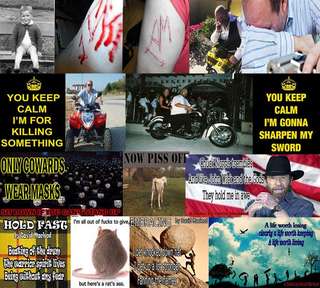 A  Significant Birthday

This has been the year from hell
like a sad song sung by Adele
So much heartache
wishing I was not awake
suffering so much pain
and with eyes that rain
oft thoughts of morbidity were always near
deep in depression, full of fear

divorcing a wife
threatened with a knife
Her repeated infidelity
screeching like a banshee
she claimed the victim role
then took a lover on a whim
children divorcing Dad
unreasonably mad
shunned by friends
my status offends

some people on a poetry site
rather too quickly I fell in love
felt like a gift from above
she offered unconditional love as a prize
couldn't see through her disguise
jilted just before the altar
it all had been about the dollar

razor out cutting started
practicing to become the departed
some people on a poetry site
treating me like utter shte
poetically encouraging my suicide
the hatred I could not abide
found it hard to catch my own breath
started planning my own death

they say you can't survive without one good friend
not having one I'd reached my end
Miraculously, I got saved
by the one good friend I'd craved
she came like a bolt out of the blue
a white night came to rescue
became the best friend I'd ever had
made me happy fighting sadness

taught me the desire to live
such a wonderful gift to give
no longer did I lack
she taught me to fight back
A love and plutonic friendship, finally real
I dived right in with a fervent zeal

saved by a woman, but for what?
it matters not it's now a future I've got
filling up with the fight
getting rid of toxic shite
finally, have my head on straight
punching like a heavyweight

following the wise words of "Ragnar"
On painful stumps
I WILL "RISE UP AND GRIND!"
All writing remains the property of the author. Don't use it for any purpose without their permission.
likes

6

reading list entries

4
Commenting Preference:
The author encourages honest critique.