Content Warning : Do you want to continue?
This poem contains content which some readers may find disturbing.
It is unsuitable for children or anyone who is easily offended.
YES
I am over 18 years old, I have been warned and I still want to read this poem.
NO
I don't want to read this type of content, take me back to the previous page.
deepundergroundpoetry.com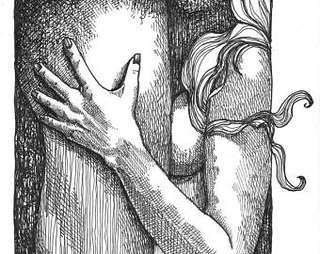 Destination
The glazed road
- sharp glimmers of ice
seen in the cast of street glow

the car swerves
tense in the neck
hands firm to the wheel
sporadic cars
slowing to pass;
the close call
an unattended corner
carrying the rear
into a passing lane.

A porch light
shimmers in the layers;
a tapestry of crystals
- rain transformed
by the sliding temperature,
dangerously beautiful.

She waits at a sparse table,
two generous glasses of scotch
calling to abate the nerves
of his treacherous drive.

Concern diminished
by his arrival,
a healthy gratitude
delivered to his lips
in succession of importance
- the kiss of a mistress
escorted by a warm sip.

A kimono frames
her petite body;
it barely clings
to her shoulders
an open swath of skin
smooth and unhindered
guides his gaze
to the source
of the risk

His belt unfastened
glass returned to table
his cock springs into her hand
as her amber eyes
reveal the longing
of a lonely day

She unbuttons his shirt
pulling it for leverage
tight to her body
her dainty breasts
trailing down his abdomen
to settle on knees

She rubs his swollen excitement
in the dip of her chest
pressing against the pressure
teasing her own nipples
with his pointed expansion.

Gently manhandled
in the grace of her generous touch,
the slow lick along the length
- a fitting reward
consuming him in inches
that others never will.





All writing remains the property of the author. Don't use it for any purpose without their permission.
likes

6

reading list entries

1
Commenting Preference:
The author is looking for friendly feedback.