Content Warning : Do you want to continue?
This poem contains content which some readers may find disturbing.
It is unsuitable for children or anyone who is easily offended.
YES
I am over 18 years old, I have been warned and I still want to read this poem.
NO
I don't want to read this type of content, take me back to the previous page.
deepundergroundpoetry.com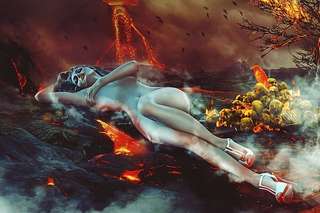 TRUTH

feel the Goddess and give her due respect
mishandled deity with lusting eyes
twirling in the energy lighting on midnights
to her disgrace you speak ill of her
don't you see child after my own likeness?

we touch the slumbering face of tomorrows-

awaken I'm here for you
bespeckled and blushing dawn
forgotten mother over the Earth
golden yesterdays in disarray
feels forlorn in this place
where you turn away...

he tastes me only in the darkness
spits in my face in the light
worship pull-pits where the true devil sits
handing down sideways judgment
while he fingers my pussy

in a rage...
I take another universe of thought as a lover
I will be no shameful concubine-

tears stream down my face
I will only submit to one pure of nature
who fucks me down and dirty
but is man enough to admit it



All writing remains the property of the author. Don't use it for any purpose without their permission.
likes

9

reading list entries

3
Commenting Preference:
The author encourages honest critique.