Content Warning : Do you want to continue?
This poem contains content which some readers may find disturbing.
It is unsuitable for children or anyone who is easily offended.
YES
I am over 18 years old, I have been warned and I still want to read this poem.
NO
I don't want to read this type of content, take me back to the previous page.
deepundergroundpoetry.com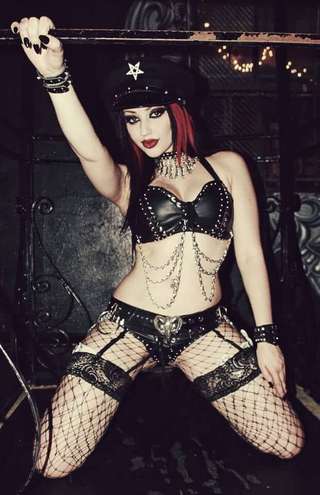 gothic enchantress

I sit alone in the darkness
with Lady Dark;
the very ferocity in me

she is the demoness in me
I've kept her chained
it's time I free her

I call upon her now...
please enter at your own leisure
seduce me, Lady;
pet my wicked imaginations
bring them to a hellacious crescendo

a moan escapes my stitched lips
when she enters;
razor in hand releasing me

ride the waves tonight woman
you are my liberating voice
speaking infernally from the pit
blasphemy your native tongue

there is one on my periphery
who captivates me
it pleases me Lady Dark
if you would see to him

release his inner demons
to roam these sacred halls
with complete abandon

he sin~tillates me
brings out my naughty side
I long to taste his intellect
lick his cerebellum
relieve him with my pussy poetics

devilish lady, we're getting there
but I don't feel quite liberated yet
send my demons...
ride the night air do as your bidden
seduce the one I'm seeking

beguile his mind;
caress his masculine prowess
bring him to full release
envisioning what we can do to him

I'll ride him into hell
my lips made for pleasuring
lap at his weapon of destruction
I bite, spit and swirl
then swallow his hardness

he will be my undoing
I feel him commanding me
from the shadows

"I know you Lady
we're well acquainted
on your knees before me"

my pink pussy peaking;
in hopes of seducing you
it amuses you to see your little tease
up to her same games

"don't forget puppet
this is my game you're playing"

"so it's the devil after all
I'm really entertaining
I await your next command eagerly"

"Master"






All writing remains the property of the author. Don't use it for any purpose without their permission.
likes

9

reading list entries

2
Commenting Preference:
The author encourages honest critique.