deepundergroundpoetry.com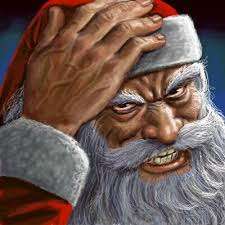 BAH HUMFUCK!
The stockings have been hung
The dead tree has been set
The lights have been struck
But I frankly by dear,
"I don't give flying fuck!"

Bah Humfuck! Bah Humfuck!
I don't give a shit!

Christmas is about gluttony and greed
Not about the birth of a Savior
The only God being worshiped
Is the great 'Almighty Dollar'

Bah Humfuck! Bah Humfuck!
You greedy sons-of-a-bitch!

People stampeding over each other
For a piece of plastic junk
That was made in a third world country
By some poor starving schmuck

Bah Humfuck!  Bah Humfuck
Let the heathen run amok!

My relatives that hate each other
Can have their family get togethers
I'll stay home all alone, by myself
And eat Campbell's soup for supper

Bah Humfuck!  Bah Humfuck!
Go ahead and stuff your guts!

After every sip of soup I suck
I'll take pause to stop and mutter
"Bah Humfuck to all you hypocrites
I hope the test-tube turkey you're eating
Makes you good and damn well sick!"
All writing remains the property of the author. Don't use it for any purpose without their permission.
likes

5

reading list entries

0
Commenting Preference:
The author is looking for friendly feedback.