deepundergroundpoetry.com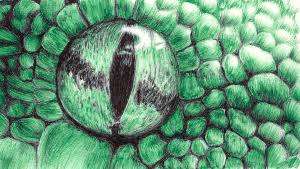 Reptilian Mind
At days end, the sun descends towards the horizon
The sky is painted in vivid hues, the moon is rising.
  
Crepuscular creatures stir, as I slither my way  
Through shaded undergrowth, absorbed in search of prey.
 
Gliding taut-bellied moves, my dance is exotic  
Scales aglow and shimmering; the display hypnotic.  
 
I am aroused by his scent, he is musky and strong  
Wrapped in furs, my pulse quickens, it's for him that I long.  
 
"I must ravish you rodent"; I rear up high and strike  
Mouth wide, I swallow you whole, my succulent delight.
All writing remains the property of the author. Don't use it for any purpose without their permission.
likes

11

reading list entries

2
Commenting Preference:
The author is looking for friendly feedback.