deepundergroundpoetry.com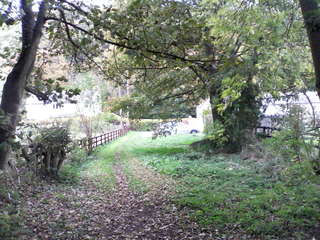 English Lane
I sit in the old servants quarters of
an English stately home. Behind the wall,
a partly cobbled green lane which I love.

Going down the lane from this aging Hall
in a wooded glade is a metalled road.
Going right, past a white wash Lodge withal

a scattering of dwellings now bestowed
by this beautiful walk through bright sunbeam.
Toward a bridge under which a burn flowed

where trout swim stationary in the stream
and, sometimes in the woods, roe deer are seen.
Continuing on this road as a dream

especially at dusk, where before we've been.
Road and stream like rod and snake reach a ford,
where two foot trout shimmer, quiver, careen

across to spawn; a sight to be adored.
Where stream and road cross a ford, where we roam -
pleasant and relaxing with health restored.

Along the lane where the trees make a dome,
around the corner and starting to climb,
the single track lane will then take us home.

If I stood up and rotated around:
each way you look, this journey is background.
All writing remains the property of the author. Don't use it for any purpose without their permission.
likes

3

reading list entries

0
Commenting Preference:
The author encourages honest critique.