Content Warning : Do you want to continue?
This poem contains content which some readers may find disturbing.
It is unsuitable for children or anyone who is easily offended.
YES
I am over 18 years old, I have been warned and I still want to read this poem.
NO
I don't want to read this type of content, take me back to the previous page.
deepundergroundpoetry.com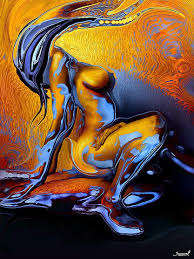 peek a boo

in the mood to play...
you watch me sleeping
I sigh and turn over
my breasts play peek a boo with you

pink inviting is open...
you slip two fingers inside
and get a taste of my berried desert
flavored to your liking...

I wake up with a wink and giggle
voluptuous lady arouses your hunger
sweet, creamy sugar playful as always

you smack me on my heart shaped ass
and enter slowly to get a feel for me
I begin to twirl on your hardened pleasure

I'm game if you are...
I glide on you moaning as I go
massaging my clit on your dick

you say baby you're my stress relief
my treasure to discover over and over

you suckle my breasts
while I bounce up and down
mmm Daddy that feels good

you watch my sweet ass...
working your pole in the mirror
ride me, girl, you slap my ass even harder

my eyes widen...
you know I'm going to cum
you say hold on lady...
slower now, this is how I get down

you take me to the next level
where I beg for release
you growl...patience we're almost there

my pleasure's off the hook
I scream...you look at me wickedly

that's my girl...
my pussy convulses on you
clenching your cock as it pulsates

pulling out just in time...
you feed me your sweet cum
letting loose all over my pretty face

mmm, I lick my lips...
you taste yummy

my beautiful girl
I love that you're always down
showing me a good time

until next time...
stay sweet









All writing remains the property of the author. Don't use it for any purpose without their permission.
likes

10

reading list entries

4
Commenting Preference:
The author encourages honest critique.