deepundergroundpoetry.com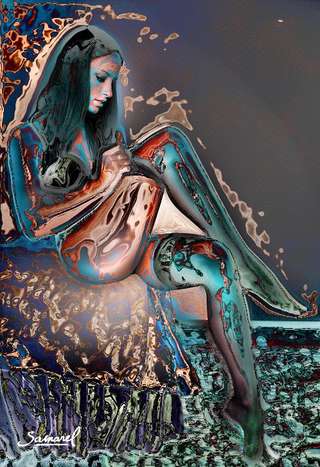 first blush

the moonbeams in your sideways smile
held me captive to a lust so great...
I trembled like a little girl

you reached out to touch me...to see if I was real
or just a mirage on your horizon
in my innocence, I shine and then fade
unsure of myself spotlighted by your gaze

reflected in your eyes...
a woman not yet sure of her body
so painfully aware of my womanhood
you push my buttons...opening my pleasure zones

the art of seduction a mystery to me
skilled at little more than coy looks
giggles and stolen kisses in the dark

prowling you with shy smiles...willing you to come after me
taste my first blush while it's ripe on the vine
divinity in the flesh...a woman...a child
and so much more

discover me a book you've yet to read
spread my pristine pages open
and write your own chapter in me

in indelible ink...I am ravished
graffitied walls will say you've been here
leaving your mark on my mind

you mentally pet me...bringing me to full arousal
I ache with the heat of you...rising to greet your hands
my inner woman is unleashed
within a great need, I come undone

your fingers blaze a trail of desire
conquered...by a man of your intellect
I'm wholly seduced and beguiled

you've unlocked my doors
I have to concede I'm in over my head...
in danger of succumbing to your lusts
and drowning in mine...



All writing remains the property of the author. Don't use it for any purpose without their permission.
likes

12

reading list entries

4
Commenting Preference:
The author encourages honest critique.