deepundergroundpoetry.com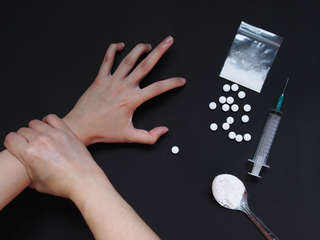 Sobriety
Am I giving up?
No, I just realize I can't keep placing my forever dream with you in my front pocket;
And that in and out of itself is my fault.
You have to want it as bad as me and be free.
Love like this can only run so deep.
Is it not deep enough to save you?
Why isn't the self-love within not deep enough to save yourself?
I cannot possibly judge you at all without hitting a chord in my own tune.
I get struck because I realize the criticism I have about you I must first ask myself "well what are you doing"?
How am I dealing with stress, daily life and feeling repressed from trying and trying and not yet had progress?
I had to ask myself, "Have you not gotten into something that you became obsessed with, and that something being anything that helps pushes issues away"?
Yet, my friend you choose curiosity and got caught up in a distraction so deep it can leave you lifeless, because you choose to live life less!
Instead of dealing with the present issues you have that are connected to your past you just run.
You run from you, and you're also chasing you.
So, it just becomes recycled issues in a circle that is never ending, and so you take your first hit and just like that you feel like your escaping but you're not.
The recycled issues and your circle of never endings just seem to momentarily go away.
Accountability brings on emotions that you realize will come, but stands numb while your floating in drug reality that is a lie.
When it hits though realizations come fast and your back in your depressed state so you snort another line.
Your new name, is addict.
We all have our coping mechanisms, but what I choose doesn't land me dead, in jail, or chasing another high that takes my natural living high and make it look like sh*t.
After all of this, I come back to self only to realize thru your transgressions I must love myself this deep.
Betrayal for me is one of the least things I worry about, for I own no one, and no one owes me anything.
The only betrayal that is at fault is my own to myself.
I deserve better!
I deserve better than to be on a roller coaster of emotions in your storm that you must face alone.
I must set you free to fail and prevail, to fall and rise so you can stand on your own two feet.
You let your fear hold you back from so much freedom, and I too am in fear of losing you.
But living in that fear I am being held captive by thoughts I'm not even sure I completely understand.
So, I choose freedom.
Freedom does not mean it won't hurt, but it will heal.
Freedom does not mean instant victory or gratification, but if we keep pushing without giving up then victory is a guarantee.
Freedom is on the other side of fear.
Fear gets you nowhere but ideas and premeditated thoughts that only hold you back from making a move that could be your break thru!
"Possibles" and "possibilities" cannot be or happen if you do not overcome yourself!
You are the enemy to your own war, and it is time for you to be the hero!
So, I write this today in fear that you might not make it the 1st, 2nd, 3rd or 4th time around, but I know that freedom entails you get back up after the fall.
After all the scenarios we've played in our heads how can we be sure of what is to come if you don't try?
So, I write this today with hope that you get it.
That these words come alive to you and manifest possibilities in your mind as you read and conceive your plan against fear into freedom like a trojan horse!
I love you but I love myself more to know that I deserve better than to live in fear of your actions that keep you bound.
I am and will always be a support when I can, and I will always show you unconditional love...and this I will, I promise.
If I say I love you like I feel I love you I will never be a hinderance to what God has for you to learn.
I will not be an enabler, life is our bride and I need you to be stable in her.
Love can draw lines that we don't want to follow, but for the greater good I first must be good.
YOU first must be good.
Until then I will continue to live my life in hopes that one day we will have what we've dreamt.
I pray it is never too late, but I can't stand on ground that is not solid. The one factor that I am sure about is me.
I have faith, I believe and I envision you as a free you! But again, fear and hope are emotions that either set us back or move us forward, and this will be the only way to know what happens.
Until then friend I chose to be sober from constant fear, anxiety and disappointment.
I must heal right in order to be right within me, and a light to you.
Sober from worries of scenarios that may never happen.
Sober from excuses that help keep us bound and down when we are meant to stand tall and be above!
So I choose to take it a step at a time, day by day, one moment at a time and I pray for your sobriety.

All writing remains the property of the author. Don't use it for any purpose without their permission.
likes

6

reading list entries

3
Commenting Preference:
The author is looking for friendly feedback.