deepundergroundpoetry.com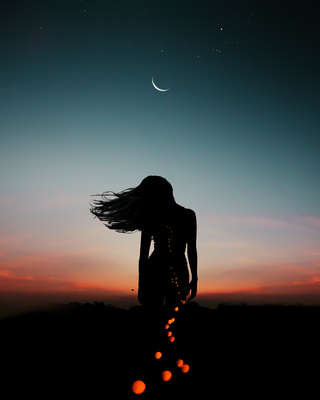 Crescent

You force upon me
a misty recall, bringing
our duel seasons into focus

while segmenting an orange †
as I absent-mindedly †
walk the garden.
†
A waxing crescent moon †
ascends for a
third evening in a row
†
racing the juice that runs †
up my arms †
for its first sticky taste.
†
These thoughts unchanging †
despite †
a day's unrelenting heat
†
that transforms a night
thatís still too warm to wear †
my hair unbound.
†
We live different halves,
opposing lives
same endless horizon.
†
Faint light hooks the †
ends of damp hair
in that moment of solstice
†
when how lovely the †
scent of rind
won't wash off me for days.

All writing remains the property of the author. Don't use it for any purpose without their permission.
likes

17

reading list entries

6
Commenting Preference:
The author is looking for friendly feedback.