deepundergroundpoetry.com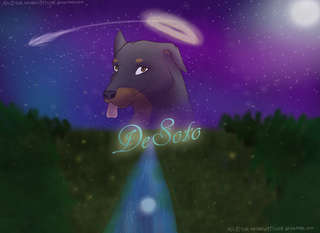 Man's Best Friend
I am your guardian,
here beside your bed.
So go ahead friend,
rest your weary head.

Call me when you're scared,
curl up close and warm.
'Cause when the beasties come,
I'll be here to inform.

I am your friend,
here, beside your bed.
Go on my child,
sleep away the dread.

Call me when you're sad,
my ears are always open.
Your words, my human bff,
are the most important ever spoken.

I am your servant,
here beside your bed.
Feel free master,
to pat my big strong head.

My name is perseverance,
strength and love unbound.
Around your little finger,
my life is tightly wound.

I will be here for you,
forever and past the end.
Until my unavoidable last breath,
your life I will defend.
All writing remains the property of the author. Don't use it for any purpose without their permission.
likes

0

reading list entries

0
Commenting Preference:
The author is looking for friendly feedback.