Content Warning : Do you want to continue?
This poem contains content which some readers may find disturbing.
It is unsuitable for children or anyone who is easily offended.
YES
I am over 18 years old, I have been warned and I still want to read this poem.
NO
I don't want to read this type of content, take me back to the previous page.
deepundergroundpoetry.com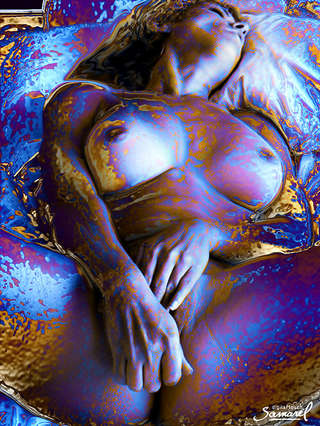 Tonight I Want.....

i am never done
and you are always ready
just as it should be


:::::


tonight  i want  
you to ease your fingers inside you
as i ooze inside your mind
infiltrating thoughts
piercing your cerebral woman
with the rock hard focus you wondered about
dictate steady inquisitions while you
cum repeatedly to my intent


i want you to stain
the sheets as a soiled map dedicated
to our collective desire
streamed down your thighs
dreamed in your mind
phantasized in the back of your throat


stick out your tongue and taste
my hovering essence fondling your aura
fingerfucking your imagination


i want you saturated with me as
you walk these city streets
i want you to envision the heat of my breath
at the base of your neck
my wet tongue circling your nipples
my hands creeping up your skirt
my voice vibrating against your clit


i want you moist and ready for me
at all times..eyes fixated
your belly swirling with anxious butterflies
as i feed you with a variety of
spontaneous masculinity
revealing to you the multiple levels of how
i want to fuck you
into oblivion's paradise

::::


All writing remains the property of the author. Don't use it for any purpose without their permission.
likes

12

reading list entries

4
Commenting Preference:
The author encourages honest critique.