deepundergroundpoetry.com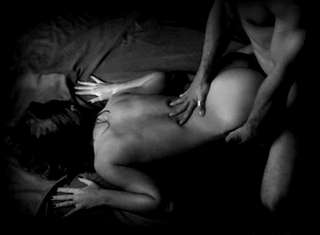 Whispers
Still

The tone of his voice and his accent roars through my mind from dawn to dusk.

Tormented by distance, and bound by circumstance, but limited by pride & prejudice.
 
The rise and fall of his breath remains with me as he took my breath away. Heart to heart, soul to soul, we collided all over one another, like constellations in the night sky.  
 
If poetry were a seasonal hybrid whore I'd be his faithful lover, and he'd know that he was all that I yearned for as I compelled him to taste the fragments of my desire, for him.  
 
Waiting patiently for the moment he'd slip inside the pulsating depths of my sacredness as I hummed graciously upon him as he nourished me intently and methodically, from sunset to sunrise.  
   
I'd scribble my name all over his throbbing timeless piece with my tongue, until my heart pounded ferociously against his, in unison.  
   
Lustrously licking the synonyms & antonyms that he crafted for me, until I was certain he knew how much I worshiped his creative mind and free spirit whilst lodged in the depths of my holiness.  
 
Grinding and defining the intent behind my words as I lucidly ride the chaos within his restless soul to unearth his hidden desires until he chants "mine, mine, mine" and I respond in a hushed tone with "yours, and yours alone" as he strums upon my sticky love notes until we both tremble.

And, still.

I remember the day you branded me your ripest carnal apple, while our love depicted the stars and water, and just like Neruda, you had me sipping upon the chalice of your divinity.

Willingly sprawled before you as you penetrated my senses until I was gaping and aching upon the altar of your love for more of you, in the depths of me.

The anniversary of our bond will always fall on a leap year, and each day since then, I've honoured your existence in quiet reverence during the transitional moments between dawn and dusk.

Each moment in between those spaces, I've ached for the touch of your fingers upon my lips, as you rolled your hips, over mine until I glistened for you in perpetuity.
All writing remains the property of the author. Don't use it for any purpose without their permission.
likes

15

reading list entries

3
Commenting Preference:
The author encourages honest critique.