deepundergroundpoetry.com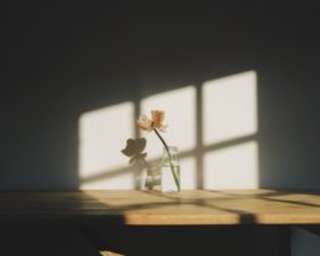 Dad.
He always knew what made me blush.  
I'll always remember his laugh.  
    
He made a chair to rock me in.    
This carpenter I won't forget.    
   
When he watched me take my first step,    
I could run before I could walk.    
   
He gave me a real microscope.    
I climbed up a tree to watch birds.    
   
He'd take me along when he'd fish.    
I'd be on deck fishing for bait.    
   
He gave me bikes, Mom gave me dolls.    
I'm Dad's little "tomboy" he'd say.  
   
And as I grew he was the world    
That said I could be anything.    
   
He always showed how much he cared.    
And as he got ill I was there.    
   
He was the one larger than life,    
Tall as a tree; my memories.    
   
He cradled me in his strong arms.    
I warm'd his cold hands as we pray'd.    
   
He'd wait through the night l was born.    
I was there when he passed away.    
   
He sang lullabies when I cried.    
I felt his deep love, then he died.    
   
He's got all the time in his palm,  
Till then he'll be waiting for Mom.    
   
   
   
Copyright©️2018 Jade Pandora.  All Rights Reserved.    
NaPo/GloPoWriMo 2018
All writing remains the property of the author. Don't use it for any purpose without their permission.
likes

12

reading list entries

5
Commenting Preference:
The author is looking for friendly feedback.