deepundergroundpoetry.com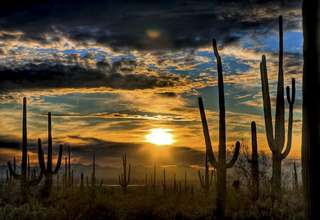 The Oasis

the desert sand blew its loneliness
into my bones

the wind had a story to tell
and while I wasn't paying attention
he whispered it to someone else

I waited a thousand years
for the desert to talk
it remained stoic

I cried great tears of grief
in the barren lands
where I found myself lost

I was blind to its beauty
it possessed life
more than I could imagine

I wandered parched
faltered & became dehydrated
stumbled about blindly
with no hope of salvation

the cactus holds water
not seeing I walked by

his mighty arms stretched skyward
praising the clouds, collecting dew
making full use of the latter rains
while they yet bless the Earth

the red sand broke its silence
& spoke to me

in a rich, deep ancient language

it said

"if you wish to survive
open your eyes
even hawk has a home under the sky"

"I'm unforgiving for the foolish
who refuse to learn
I've sent the sun to light the way
it will illuminate your mind"

"i'll tell you where to shelter
the desert lands can be harsh
to those not listening"

"I can be your greatest adversary
or your best adventure
it's up to you to choose
this is a wasteland
for those who fail to heed me"

"the oasis you see
is no mere mirage
the entry is guarded"

"do you know me?"

"if so enter child of mine
you're long overdue
so close to death
wandering alone"

"rest now & receive succor
& let your soul be replenished"



All writing remains the property of the author. Don't use it for any purpose without their permission.
likes

20

reading list entries

2
Commenting Preference:
The author encourages honest critique.