Content Warning : Do you want to continue?
This poem contains content which some readers may find disturbing.
It is unsuitable for children or anyone who is easily offended.
YES
I am over 18 years old, I have been warned and I still want to read this poem.
NO
I don't want to read this type of content, take me back to the previous page.
deepundergroundpoetry.com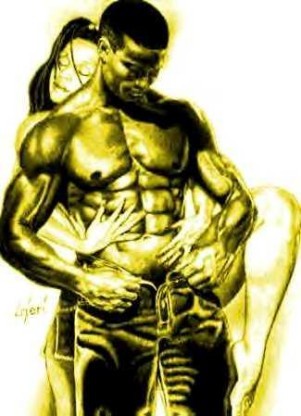 Fashionably Late................(an answer for Blissful28)
Maybe I'm going a bit old school in saying
"What's good for the goose is certainly good for the gander"
U "horny as fuck? You say that's a bitch?
Well babygirl, I've definitely got the answer
 
2 that question........."Where the fuck is he?  I need him to be here  
right here; right now to fuck me."
 
 
Well pretty baby, I gonna' do this thing just like it should be
Pulling up your driveway right now and remembering
the way you did me that day at Manny's......
 
Damn, the way you teased me
…..and by the way, I was "horny as fuck" too, you see
The way you kept sashaying back and forth
Flaunting your sexuality all around little ol' me
 
You wore that "perfect" little dress
The one I helped you pick out; you said that I had excellent taste.....
 
….....the way it stopped just "long enough" along your shapely legs
I vividly recall how it accentuated the perfect curve of your
firm, round azz
and emphasized that slender, sexy waist
 
Mmmmmm.....all those times you've allowed these hands to "hold you there"
A nasty innuendo; pre-empting our eminent sin
Horny as fuck baby?  Damned I know exactly what kind of shape your in
 
Mmmmm......that fat red round cherry
The one you plucked from my drink
The way you sucked it in between those plush, soft lips
gave all the reasons in the world to think
 
My late arrival 2 night whilst your body is longing
might just be the sweetest revenge
I knock upon your door
You hesitantly let me in
 
I know you so damned well
You storm, banter and pout
Even though I'm dressed to the nines like you like me baby
You frontin' like you wanna' put me out
 
 
Thing is, I know I'm the object of your obsession
Smokey, smoldering and hard to resist
I pull you hard against my body
And give a sexy, warm, sensual kiss.......
 
......you've taught me well  
I know what to do when I get to your spot
I know what fuels your fire baby
I know what gets your essence boiling hot
 
Holding you close
Wrapped up in a maddening heat
Melting together like hot candles
Against your shapely thighs, you feel my hot, throbbing man-meat
 
And that is part of your hearts desire
as my hands caress ur perfect brown frame
Your mind drifts back for just a moment
to the last time I was here......I love the way you "say my name"
 
 
My big hands find their way between your thighs, up and under your dress
Fingers teasing you between your pleasing feminine folds
Finding my way deep into your pleasure
Fingers deep inside that beautiful, wet sticky mess
 
....mmmm, so wet are my fingers as  
they play in your erotic no-man's land.
 
For just a moment  
Our eyes lock together in a deep lustful stare
As your hands nervously grasp my zipper
My hands find their way through those tangled beautiful locks of your hair
 
A segue to all the chocolatey, decadent things yet to come.....
 
Yes, I've always heard that  
"Good things *cum* to those who patiently wait"
Hope U R open to forgiving me baby
4 being so "fashionably late"
 
…....definitely worth the wait  ; )

 
 
 
 
 

All writing remains the property of the author. Don't use it for any purpose without their permission.
likes

9

reading list entries

2
Commenting Preference:
The author encourages honest critique.