Content Warning : Do you want to continue?
This poem contains content which some readers may find disturbing.
It is unsuitable for children or anyone who is easily offended.
YES
I am over 18 years old, I have been warned and I still want to read this poem.
NO
I don't want to read this type of content, take me back to the previous page.
deepundergroundpoetry.com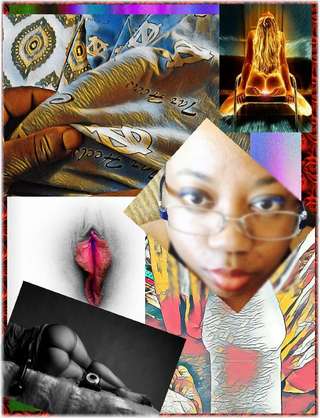 She Is Sex  (Pt. 2)

"I regret regretting my nature.  
My nature to be free  
to experience sex and lust  
on a level that's depraved......" O.S.
 
…..2nd act, exposition unfolding
creepy-crawling,  
straight into my chambers
 
withholding nothing
 
my hands  
tangled in
her long, black hair
loosening the belt of her  
wrapped dress,
watching it fall from her hip
the cool quiver of her lip
unencumbered by any
trace of underwear.....
 
…..her brown skin smooth as silk  
 
pulling her head to my lap
pushing my sword deep  
into her throat
all the way up to hilt......
 
….aah the reflex
 
deep inside her  
cavernous neck,
drowning me
her warm saliva
killing me softly
 
straining hard to breathe, satisfying my carnal need
 
thrusting harder
hips pushing faster
trying to bring forth my wanton seed......
 
…...but not yet my pretty

pulling my sword  
from deep within her velvet sheathe
I'm hers and she's mine
both aiming to please
whilst down  
upon bended knee
 
my strong, thick fingers  
press deep inside
her beautiful, tight brown flower
pulling me  
 
down
down
down
 
feeling lusts awesome power
depravity and bitter sin .....
 
(…..be not afraid sweet little bitch of mine, my finger now all the way in)
 
feeling her heat,
this rhythm moves the night
rotating our universe,  
sliding in and out  
her sphincter tight

"strumming her pain with my finger
singing her life with his words
killing her softly with his song
killing her softly with his words
telling her whole life
with his words killing her softly.....with this song"

the only softness  
found in my refrain,
an unrequited lust
throbbing, pulsing
I am  
hard as stone  
once again.......finding unspeakable joy through the seductive throes of pain
 
"….lay your head on my pillow and just relax"
 
rolling that voluptuous frame
over onto your back
peering deep into those
"pretty brown eyes"
moving my body between
her phat, delicious thighs
 
fiercely drilling into  
her tight, wet well
temperature rising, no denying
the devil's playground
I burn inside the boughs of her devlish hell
 
filling the abyss, stealing your soul
making you loose all control
as toes curl tightly
her legs extend towards the moon
a total lunar eclipse  
approaching soon
 
cumming close,
her back bone arching her hips into me.....
"Daddy....fuck the shit out of me, please"

"So Deep  
I'm Gutted  
Cum drenched..  
Back arched  
Knees shaking.  
Cum inside let it run down my thighs...."  O.S.  

 
She "is" Sex
lusty hot sauce squirting
from our union
two beast unleashed
our bodies blended,
quaking
a paradigm shift of the atmosphere ensuing.......
 
….this is no ordinary love

and She IS Sex  

 
All writing remains the property of the author. Don't use it for any purpose without their permission.
likes

6

reading list entries

1
Commenting Preference:
The author encourages honest critique.