Content Warning : Do you want to continue?
This poem contains content which some readers may find disturbing.
It is unsuitable for children or anyone who is easily offended.
YES
I am over 18 years old, I have been warned and I still want to read this poem.
NO
I don't want to read this type of content, take me back to the previous page.
deepundergroundpoetry.com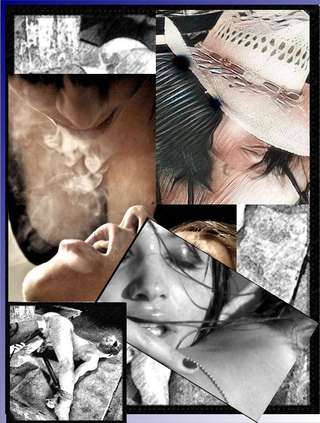 She Is Sex  (Pt. 1)
.....and she IS sex

Closing the door....

….on my last client,
boarding her car
finished her song,
down a long and winding road

pretty girl gone

these creative walls
now silent
lit by a dim red light
and the warm hue of
my computer screen

in the darkness
I strip off my shirt
drop my shorts
drop my jeans
( no longer tight)

sitting back in the captains chair

naked,
me and my depravity
nobody else there
no one except
this haunting melody
I put the monitors on
close my eyes so that I can see

it move,
the sound
a deep, subsonic pulsing
moving the room around
my mind, body and soul
trapped inside a 20 hertz mix
deep
stimulating
dangerous,
sensual

my hand wrapped around
my dick......growing
a slow, Senegalese groove
causing these hips to move to the rhythm....

"...this is no ordinary love, no ordinary love"

strengthening my grip
tightening up my stroke

remembering the allure
and sensuality of your dance
Mephisto in 4/4 time
I am trapped inside a hedonistic trance......

...and then you came

and the color of light
transmogrified a different hue
of blue and a moon shadow
blossomed.....the spot light on you

seated comfortably in a corner of the room

your hair,
Raven,
sinewy and straight
Your Panama "hat dipped
so strategically below one eye..."

…..and your dress
singularly wrapped about your waist
tipping me off with the most
divine glimpse of
perfect
round breast,
nipples raised to perfection
and the pout of her
Ruby-red lips
wet,
glimmering through
moondust lighting the way
pointing in the right direction

I whisper "Shenita"

…..she cums slowly across the floor
as I call her name
a beautiful gypsy moth
drawn to my raging flame

locked step into
this relentless groove...an oh so "Wicked Game"

"...this is no ordinary love, no ordinary love"



(end of Pt.1)



All writing remains the property of the author. Don't use it for any purpose without their permission.
likes

4

reading list entries

1
Commenting Preference:
The author encourages honest critique.