Content Warning : Do you want to continue?
This poem contains content which some readers may find disturbing.
It is unsuitable for children or anyone who is easily offended.
YES
I am over 18 years old, I have been warned and I still want to read this poem.
NO
I don't want to read this type of content, take me back to the previous page.
deepundergroundpoetry.com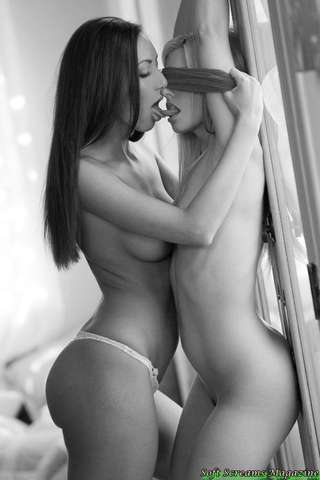 tainted angel lust~with my beautiful Taryn

crimson sin
tastes blackberry desire  
both intertwined  
immersed in each other's lust  
passions peak  
as tongues flick  
blazing a trail of wanton heat  
from belly to pulsing throb  
fingers delve into dark wet  
i wiggle in anticipation  
knowing what comes next  
i am her pet  
my Goddess erotica  
binds my wrists  
then savors honeyed slit  
 
feeling hips rise  
pressing into moist lips  
I tease pulling them back  
hearing moans  
with roof of succulent  
getting clicked  
yeah mmmm....  
that's my BB  
showing me how much you want it  
looking at those firm peaked nips  
just begging for some attention  
I'll slide hovering flesh upward my love  
have lips brush to quickly to tickle  
secure them with my teeth  
to softly close
for some needy suckling  
fingers hook deep  
I love watching you glide  
causing nerves to dance  
while I sync with
each of your strides  
 
tantalizing fire ignites  
overflow of passion  
as we grind cunt to cunt  
our eyes meet  
& here lies the magic  
we connect on the deepest level  
two ethereal beings  
with tainted wings  
panting our darkest need  
with hungry growl  
& wanton greed  
we feast from one another  
soul to soul  
my beautiful Taryn  
lady of my dreams  
manifests in carnal  
moans & cream  
glazes my lips  
with sweet juices  
i nibble & lap  
at her fount of pleasure  
nearing eruption  
in frenzied seduction  
i await her command  
 
pressure is felt to build  
in between her slick wet thighs  
fingers wrap around her throat  
fixed on waves  
in ocean eyes  
waiting patiently  
for feral appetite  
she balances on the edge  
holding back a flood  
of emotions  
when my walls insist  
on the command  
"come for me My Beautiful"  
drench me as you tremble  
that combined with marks of ecstasy  
leaves indelible love  
reaching far beyond Heaven
 
 
 
 
 
 
 
 
 
All writing remains the property of the author. Don't use it for any purpose without their permission.
likes

10

reading list entries

2
Commenting Preference:
The author encourages honest critique.