Content Warning : Do you want to continue?
This poem contains content which some readers may find disturbing.
It is unsuitable for children or anyone who is easily offended.
YES
I am over 18 years old, I have been warned and I still want to read this poem.
NO
I don't want to read this type of content, take me back to the previous page.
deepundergroundpoetry.com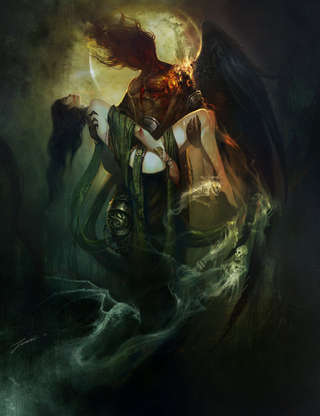 Eternity
Act 1 : Ignition
Her heart madly races as Master approaches
Pupils dilate and nipples swell as He begins the sacred sequence
Lust fountains between her legs
He knows her Soul, better than she knows herself
His hands roam her curves , skillfully arousing every cell in her body
He whisper the dirtiest words in her ears
She feels the kiss of the whip all over her body
And the amazing sensation of Masterís hands, caressing but also slapping hard
Her body shudders from both the force of impact and waves of orgasmic exhilaration

Act 2 : Ascension
Her arms and legs fastened on a ceiling swing,
He hoists her up to waist height, her body suspended in mid-air
She gasps for a last breath of air as Master pulls her hair downwards
Gently but firmly shoving his throbbing manhood down her throat
Her moans match His, as He comes to plunder the cradle of her femininity
Her body once again shudders from the force of His body colliding with her
As He claims her all
The final apocalyptic orgasm comes as He explodes
Flooding her insides and bathing her whole body in his essence

Act 3 : Sublimation
She rests in her Masterís warm embrace as feeling whole
Utterly loved, cherished, satiated
His fingers gently flowing through her hair
She feels the beating of His heart and his arms around her †
The world that gave her so much pain fades
Outside the window, faceless undead shamble
But she feels Alive, breathing in
Eternity.



All writing remains the property of the author. Don't use it for any purpose without their permission.
likes

9

reading list entries

2
Commenting Preference:
The author is looking for friendly feedback.