deepundergroundpoetry.com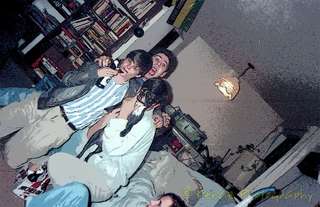 Aid of Hooch
We spoke with the aid of hooch
about science and the alternatives
lifestyles outside the common path
while sipping juice with a punch of rum

an igloo water cooler was the source
I dropped my drink just not once
when my hands move to speak
in a rush to share my life

how'd they get in my way?
perhaps the handsomeness in the face
with a mind oh so keen
presented while the music played

conversation was the bridge
between two people disconnect
by their stations and their age
linked by the greater underneath

since that time there's been no hooch
I know what I heard that night
my admiration has not quit
for the science and the rest

© 2017. Sean Green. All Rights Reserved. 20170508.

I went to a party and had a great time connecting with the people there, and one person in specific. The poem "Aid of Hooch" is about that experience.
All writing remains the property of the author. Don't use it for any purpose without their permission.
likes

0

reading list entries

0
Commenting Preference:
The author encourages honest critique.